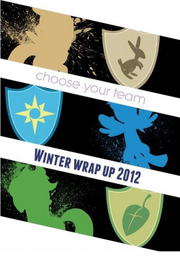 http://winterwrapupponies.tumblr.com
The Winter Wrap Up Ponies blog ran the Winter Wrap Up 2012 Tumblr event. It challenged ponies to help clear up Ponyville's winter to let spring shine through, and assigned the ponies to three different teams (plant work, animal work, and pegasus work), and then to sub-teams within those.
Unfortunately, the submissions were generally too late, and the mod was forced onto hiatus. The event was cancelled on the 17th April 2012. Ironically, this actually made the event more show-accurate: without Twilight Sparkle organising the teams, Ponyville was once again late to wrap up winter.
Plant team
Edit
Seed planters
Edit
Snow shovelers
Edit
Ice scorers
Edit
Soil plowers
Edit
Animal team
Edit
Food gathering
Edit
Animal awakening
Edit
Nest making
Edit
Den cleaning
Edit
Pegasus Team
Edit
Weather patrol
Edit
Bird migration
Edit
Cloud removal
Edit
Snow removal
Edit
Ad blocker interference detected!
Wikia is a free-to-use site that makes money from advertising. We have a modified experience for viewers using ad blockers

Wikia is not accessible if you've made further modifications. Remove the custom ad blocker rule(s) and the page will load as expected.