http://theunluckiestgirl.tumblr.com/
Text/RP/ask
Tiffany is a human originally from the human world(pokemon) but she was turned into an Earth pony. She's not really bothered by it and has found love.
She is part of a powerful human clan called the Ryu Clan but she doesn't know a lot about it other than that they all have a mysterious item called Gears. She has one as well but she doesn't bring it out that much.
Mod : ...Will do this later!
Her gear allows her to heal other ponies and humans at the cost of her own energy. She can also make shields.
Because of a spell circle burned into her back, she can summon giant hammers to hit idiot/lustful/possessed ponies with to knock them back into their normal selfs.
Sithmane (Husband, added soon)
Toby (Son)
Nightsong (Daughter)
Shywriter (Daughter)
Ari (Son)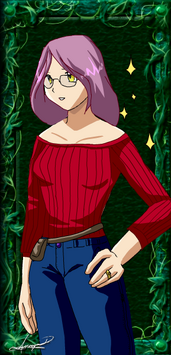 Ad blocker interference detected!
Wikia is a free-to-use site that makes money from advertising. We have a modified experience for viewers using ad blockers

Wikia is not accessible if you've made further modifications. Remove the custom ad blocker rule(s) and the page will load as expected.