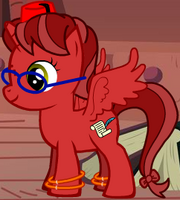 http://askshywriter.tumblr.com/
Ask/RP/text
Shywriter is an Alicorn but she is one because of biological reasons because she was not a princess at first.
Her special talent is to write about history and she follows her parents everywhere.
Her gear power is Time Travel but it is weak right now.
She was born a few years after her sister, Nightsong, was born, she came into the world.
A year after that, she started taking writing lessons, quickly learning that she loved to write.
Her only magic ability is telekinesis.
Her gear allows her to time travel but she can only go back and forward five minutes. (for now...)

Ad blocker interference detected!
Wikia is a free-to-use site that makes money from advertising. We have a modified experience for viewers using ad blockers

Wikia is not accessible if you've made further modifications. Remove the custom ad blocker rule(s) and the page will load as expected.