Captain-Seashanty is an NSFW draw blog mostly drawing OCs, it's a sort of ask blog at the same time, and sometimes maybe even a story blog. How about that...
The character
Edit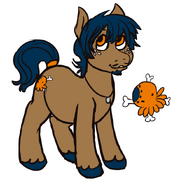 A pirate pony. He's too silly to exist.
Sea Shanty is a young pirate pony originally hailing from a large island somewhere. His mother is a kind pony named Jelly Belly who befriends Jellyfish while his father is a musician named Sea Star. Residents from this island usually earn sea or island sorts of cutiemarks.
When Shanty was still young he encountered an old pirate waiting for a new recruitment that never came. Shanty loved the idea of being able to sail the seas (while stealing anything he could) and begged to take his place. This lasted less than a day as Shanty had to go home for dinner. However; on his short trip he decided that being a pirate was his life calling but was still a blank flank upon his return.
His ears are longer than normal,wears a simple neckless on his neck, and ties his tail up. His tail will switch from being flowy to being chopped.
His talent is actually singing to sea critters; more on that later.
He sails a ship with Notchy the pirate sheep.
Ad blocker interference detected!
Wikia is a free-to-use site that makes money from advertising. We have a modified experience for viewers using ad blockers

Wikia is not accessible if you've made further modifications. Remove the custom ad blocker rule(s) and the page will load as expected.