Raindrops Answers is an utterly adorable ask blog based almost entirely on the fully-drawn (and occassionally animated) answers of the titular character Raindrops to users' questions.
Raindrops is a kind, caring pegasus who at one point was completely in love with Colgate. Unfortunately the target of her affections was already in a firm relationship, and was unable to abandon her family for Raindrops. This caused the yellow pegasus to termporarily become discorded, turning grey and losing her happy demeanour.
She got better, though!
Bodypillow controversy
Edit
After Why485 sketched up a
Raindrops body pillow
,
this
was drawn. Raindrops herself was unimpressed. It is currently unknown how many members of the various Tumblrverses have bought one in secret.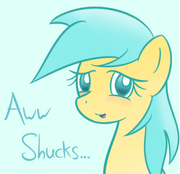 Ad blocker interference detected!
Wikia is a free-to-use site that makes money from advertising. We have a modified experience for viewers using ad blockers

Wikia is not accessible if you've made further modifications. Remove the custom ad blocker rule(s) and the page will load as expected.