MLP Captions

You know how YouTube's "transcribe audio" feature is so off? Well I'm going to exploit it here for you all to see!

MLP Captions tumblr

Owner
Mettie7
Blog type
Meme
Status
Inactive
Date Created
June 27, 2012
Main Character(s)
Everypony

MLP Captions is a meme blog focused around YouTube's automatic caption feature. Created by Mettie7. MLP Captions doesn't follow a storyline, instead, the automatic captions tell the story in a humorous way. The blog usually adheres to the canon of My Little Pony: Friendship is Magic , but if the captions give the character a personality they wouldn't normally have, he rolls with it for the joke.
Origin & History
Edit
The mod of MLP Captions created the blog on June 27, 2012 in hopes of becoming a well-known pony blog. On July 1, 2012, the first picture with automatic captions was posted and received only 2 notes. Many of the captions for the first few months were hit-or-miss, mostly misses. By July 21, 2012, MLP Captions had 50 followers. On August 7, 2012, the blog passed the mod blog in terms of followers, being 96 and 95 respectively. By November 21, 2012, the blog had posted pictures of automatic captions for every episode of season 1. The next day, the blog started posting captions from pony parody videos from PonyPokey and SherclopPones dubbing them "specials".
On February 26, 2013, pictures from APPLE.MOV were posted and subsequently received asks complaining about the blog losing it's touch -- the blog, however, did gain followers.
From July 1, 2013, ironically the blog's first birthday, to August 27, 2013, the blog went on hiatus because of BronyCon. The hiatus ended in early September and has stayed active.
The Crystal Empire - Part 1, The Crystal Empire - Part 2, Equestria Girls, and Rarity Takes Manehattan we're skipped because there was no version on YouTube where the mod could collect the pictures. Rarity Takes Manehattan has been found, but has not been published yet. Equestria Girls: Rainbow Rocks is planning to be posted if an HD version is ever posted on YouTube.
The blog was on hiatus since May 21, 2014 and resumed once season 5 began. The blog is now currently active.
MLP Captions will retire when all episodes have ended and been exhausted of automatic captions. This includes season 6.
On April 2, 2016, the blog went on permanent hiatus.
BronyCon 2013 Hiatus
Edit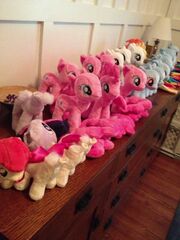 The mod and a friend made their own custom pony plushies and prints to sell at BronyCon 2013 in Baltimore, Maryland. For this reason, the mod could not keep up with his blog's schedule as he had no time to post anything. Nearly 200 plushies we're cut, sewn, and sold. The hiatus ended once BronyCon was over.
Ad blocker interference detected!
Wikia is a free-to-use site that makes money from advertising. We have a modified experience for viewers using ad blockers

Wikia is not accessible if you've made further modifications. Remove the custom ad blocker rule(s) and the page will load as expected.