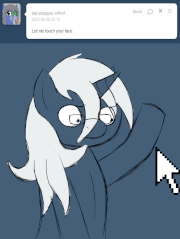 "Let Me Touch Your Face" is a rapidly spreading meme involving Ensayne going into the Ask box of Tumblr ponies and submitting a message simply reading "Let me touch your face."
The usual response is for the owner of the blog to post a picture response of his ponysona using a hoof (or in Ask The Pony App 's case, a computer cursor) to touch their face. Some of the blogs hit were Ask The Pony App, Jacked Hoodie , Ask Laura Stuff , and others.
Ad blocker interference detected!
Wikia is a free-to-use site that makes money from advertising. We have a modified experience for viewers using ad blockers

Wikia is not accessible if you've made further modifications. Remove the custom ad blocker rule(s) and the page will load as expected.