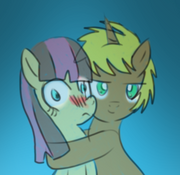 Formerly AskTeenApplebloom, Kev has decided to stop his TAB blog due to lack of motivation, the chracter applebloom becoming boring to him and him disliking his onld style.
Kev has now started a new series of art based ona completely new style of art he created from scratch during a "Go crazy" moment on paint tool sai.
He currently ships his OC Kev Darkhood with Scarlet Eve (http://scarlet-eves-blanketfort.tumblr.com/) and draws a lot of art including her.
He is currently taking commissions for Blocky ponies at 10$ each (5$+ for extra ponies) No self plugging here... i mean Kev is not self plug- ah screw it. Get a commission early so you can get your at high priority! I'm finishing the mane 6 first!
Ad blocker interference detected!
Wikia is a free-to-use site that makes money from advertising. We have a modified experience for viewers using ad blockers

Wikia is not accessible if you've made further modifications. Remove the custom ad blocker rule(s) and the page will load as expected.