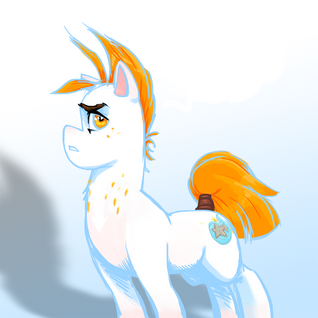 NAME:
Many ponies may not know this but HayClyde's real name is actually Brightstar but because of his being a blank flank for a majority of his young life the other young ponies called him names. "Clyde" came from him being a Clydesdale and the "Hay" came from a fire he accidently started in a hay field during one of his first experiments. Somewhere along the way the two somehow became merged in to the name he's called now.  He doesn't seem to mind it anymore, he's actually gotten attached to it.
HISTORY:
Many of todays ponies wouldn't know this but Clyde more than 8 to 900 years ago inspired a change in learning for the way fillies are taught today.  Around that time clyde was a teacher and he found ways to really inspire and capture the attention of the little fillies he taught. Unfortunately for him, many teachers of the day thought Clyde had it out for them so they all banded together and told Queen Celestia that they would all stand down from their teaching positions If Clyde was still permitted to teach.  Queen Celestia was left with no other choice but to have Clydes license revoked so that all the teachers could go back to work.
 Clyde tends to spend the time he has practicing everything he's ever studied.  But the thing he enjoys most is tinkering in his workshop thats located behind his families home property.  On the surface, all thats seen is a small warehouse like building and as far as any pony knows, thats all there is but beneath it is an even larger structure consisting of many other spaces.  See, when Clyde was constructing his family's new home with his younger sister, he built it near a small chasm which he used as the base for his larger facility so that he could keep his other curiosities from questioning eyes.  
Ad blocker interference detected!
Wikia is a free-to-use site that makes money from advertising. We have a modified experience for viewers using ad blockers

Wikia is not accessible if you've made further modifications. Remove the custom ad blocker rule(s) and the page will load as expected.