Google Chrome Pony

Google Chrome Pony tumblr

Owner
10art1 (http://10art1.tumblr.com/)
Blog type
ask blog
Status
Active
Date Created
July 2013
Main Character(s)
Google Chrome
Supporting Character(s)
Browser Ponies (Firefox, Safari, Internet Explorer, Opera)
Not to be confused with the millions of other Google Chrome Pony blogs
ask-googlechrome is hand-drawn on a tablet using Clip Studio Paint, though earlier entries were drawn using Adobe Photoshop Elements 8.0 or CS5.5. The style takes inspiration from several artists, and while it has changed a lot, it mostly has consisted of a thin black outline with fill-colored bodies, shaded either softly or with cell shading, or not at all.
Character BioEdit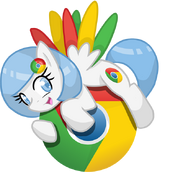 should never
give Chrome sugary and/or highly cafeinated drinks. She is known to be a bit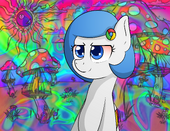 overly friendly and trusting at times, which has gotten her into troubling situations. *Name- Google Chrome
 *Nicknames- Chrome, Chromie (not Chromium)
Age- 18
Birthday- September 2, 2008
Mane color- Light Blue
Coat color- Gray 237 (Near-white)
Eye color- Blue
Cutie mark- Google Chrome logo
Ad blocker interference detected!
Wikia is a free-to-use site that makes money from advertising. We have a modified experience for viewers using ad blockers

Wikia is not accessible if you've made further modifications. Remove the custom ad blocker rule(s) and the page will load as expected.