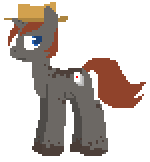 Broadway Flush is a writing-only combination Ask/RP Blog and repository for fanfiction written by the moderator of the blog, with the Ask/Roleplaying based around the original character of Broadway Flush, a unicorn who lives in the fan-made city of Hoss Vegas as head of the Tourism Department and professional poker player. The character can be presented in one of three ways, based upon who the character is roleplaying with or who any asks are directed to.
MORE TO COME SOON I PROMISE
Ad blocker interference detected!
Wikia is a free-to-use site that makes money from advertising. We have a modified experience for viewers using ad blockers

Wikia is not accessible if you've made further modifications. Remove the custom ad blocker rule(s) and the page will load as expected.