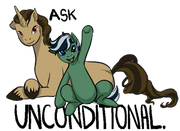 An ask blog for two ponies (Potentially more). A unicorn named Caramel Creme, and his earth-pony son, Scarab Scale.
The blog itself is currently quiet - recieving few asks to prompt further adventures. However the MUN herself has stated on a few instances that she is always open.
Characters
Edit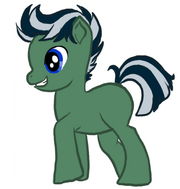 SCARAB SCALE
Scarab Scale, the younger of the two, started the blog for himself and his father. He is an earthpony with an olive-green coat, a dark teal/silver striped mane/tail, and is darker than most ponies in the show. He currently has no cutie mark. His eyes are bright blue, and altogether he does not seem to resemble his father very much, except for a few minor details.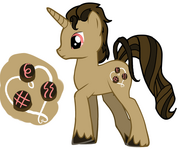 CARAMEL CREME
The older pony, and father of Scarab, Caramel recieves the greater number of asks. Scarab occassionally takes advantage, answering while his father works. Caramel is a Unicorn with a light tan coat, a brown/dark brown mane, and pink eyes. His cutie mark is a white heart overlaid by three truffles with different designs. His talent pertains to making chocolates - though truffles are just the start of it. Pictured within the blog, he is also capable of forging large chocolate sculptures. His magic is shown as the same pink as his eyes on his offical reference, though it is colored as red in the asks themselves.
HEART BINDIE
The unicorn mare has only been seen in roleplay (Jadebreeze/Jastre), and has never recieved an official introduction. She is grey, with a pink mane, and red eyes. She states that she is a marriage counciller, and under the employ of a pony whom wishes to hire 'fearless workers'.
MISS PLUME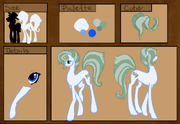 Plume has been given an offical reference, however her introduction is still pending. It is believed that she will be introduced with the completion of a Magic Anon - and is also Scarab's mother. She shares her blue eyes with Scarab, and has a white-blue pelt, with a pale green/olive green striped mane. Her cutie mark is a feather, but no information is known about it yet. She seems to resemble Scarab more closely than his father.
An image posted in preperation for above said roleplay showed several characters, some of which whom have not been introduced. It is uncertain at this time if they will show up in the blog, or if they are merely spare characters.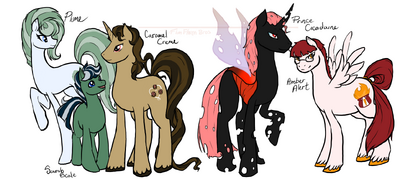 Plot - NONE AS OF YET / MINOR HINTS THROUGHOUT ASKS IMPLY THERE ARE PLANS, HOWEVER.
Edit
Location - CANTERLOT
Edit
Status - ACTIVE
Edit
Type - ASK / RP / DRAWING AND TEXT
Edit
Ad blocker interference detected!
Wikia is a free-to-use site that makes money from advertising. We have a modified experience for viewers using ad blockers

Wikia is not accessible if you've made further modifications. Remove the custom ad blocker rule(s) and the page will load as expected.