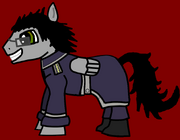 Ask Skyrunner/Gothganon
is about Skyrunner, A Gray Stallion Pegasus who is the OC of
Gothganon
on Deviant Art.
Known facts:
Bisexual and a Speciesphile
has a sister named "Pollyanna Maria Shambler"
Skyrunner Starmane Shambler

Type

Pegasus

Talent

Traveling the world helping ponies

Ask Blog Status

Open

Mod

Gothganon.deviantart.com
Ad blocker interference detected!
Wikia is a free-to-use site that makes money from advertising. We have a modified experience for viewers using ad blockers

Wikia is not accessible if you've made further modifications. Remove the custom ad blocker rule(s) and the page will load as expected.