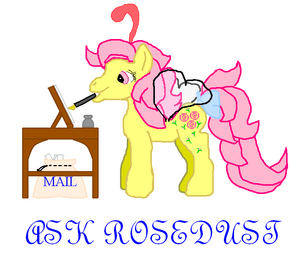 "Ask Rosedust" is an ask tumblr starring Rosedust, queen of the Flutter Ponies from G1. It can be found at http://askrosedust.tumblr.com/.
Rosedust travels between the G1 world and the various versions of the G4 world via a nexus of dimensional gates. These gates resemble horseshoes standing on the open end, and are filled with a blue energy field that is said to cause a tingling sensation as one passes through it. Rosedust is currently pregnant with twin foals via the Celestia from "Ask Sexy Princess Celestia" and a futa spell.
Ad blocker interference detected!
Wikia is a free-to-use site that makes money from advertising. We have a modified experience for viewers using ad blockers

Wikia is not accessible if you've made further modifications. Remove the custom ad blocker rule(s) and the page will load as expected.