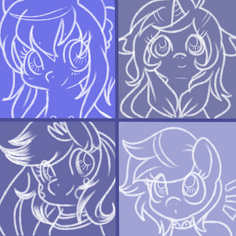 Ask Rannie Ponies is an Ask blog featuring a current cast of nine different fan-characters. They are all designed and owned by the Deviant Art user, Ranna-san
Creation and Style
Edit
The blog was created in March, 2012, as a means for Ranna-san to vent out any doodles that did not make the final cut. The Ask section was open from day one, and with the help of her friends, Ranna was able to accumulate a good amount of questions to get on with.
The consistency of the art in the answers is varied. Most of the responses are sketches. An art shift early on saw all the images being done in Paint Tool SAI's crayon brush, giving it a more storybook like feel. All images are tagged as either 'Sketch' or 'Full Colour', allowing easier navigation between sketches and complete images.
Main Cast

Edit
The cast of characters includes a main set, as well as a sub-set of foal and genderbends. The current main character list, as well as a brief biography of each, can be found below:
Secondary Cast
Edit
Content is considered generally safe. It is labelled Safe for Work, and does not feature anything of an inappropriate nature, apart from mild to moderate cussing. It is purely for uploading and 'ask' questions, so does not contain any content from any other artist, unless otherwise stated.
Ad blocker interference detected!
Wikia is a free-to-use site that makes money from advertising. We have a modified experience for viewers using ad blockers

Wikia is not accessible if you've made further modifications. Remove the custom ad blocker rule(s) and the page will load as expected.