==
Hey! This is the page for Raini and Sapphire! Follow us here!!> http://ask-rainiandsapphire.tumblr.com/==
Raini and Sapphire are young mares and close friends who live together in an apartment in West Canterlot. Raini is an aspiring zoologist with a brown paw cutie mark and Sapphire is a singer/songwriter with an overlapping pencil and music note cutie mark.
Sapphire is a light gray palomino unicorn with Sapphire blue spots, brown mane,  and green eyes while Raini is an orange unicorn with freckles and brown eyes. Her dark blue mane has light and bright blue natural highlights.
What's known so far:Edit
Well this blog is fairly new, but Sapphire was abandoned as a young foal and lived on the streets. She became best friends with Raini in Magic Kindergarden. She hung around their house a lot and even refers to Raini's mom, Satin Song, as her own, which works because they both have lovely musical talents. It was actually Satin who helped Sapphire get her own cutie mark. One last thing to know, Raini recently found out she has severe scoliosis and will have to undergo a surgery for it.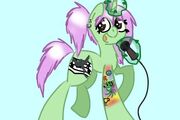 Raini's mom is a little like a hippie and has tattoos on her arm. her tattoo is music notes with a salute of a songbird in front of it.
This blog is still young, and the owner is hoping to incorporate Supernatural into it, maybe the guys being thrown into the pony verse on accident. However, she is hoping to get feedback from her followers before she does that.
Ad blocker interference detected!
Wikia is a free-to-use site that makes money from advertising. We have a modified experience for viewers using ad blockers

Wikia is not accessible if you've made further modifications. Remove the custom ad blocker rule(s) and the page will load as expected.