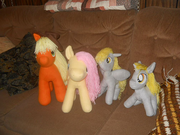 Ask Plushies is a photo Ask tumblr about for plush ponies run by Eratosthenes of Cyrene.
Characters:
Fluttershy (Aka Flutterplush). Applejack. Derpy Hooves and her daughter Dinky Doo. They are accompanied by plush versions of Sluggy Freelance's Bun-bun and Kiki. As well as the owner of the home Mr. Hard
Also they live with a group of Chubbie/blob ponies who have their own ask Tumblr.
Ad blocker interference detected!
Wikia is a free-to-use site that makes money from advertising. We have a modified experience for viewers using ad blockers

Wikia is not accessible if you've made further modifications. Remove the custom ad blocker rule(s) and the page will load as expected.