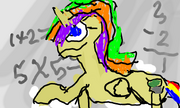 Ask Mathy

Ask Mathy tumblr

Owner
pikmin2009
Blog type
ask
Status
Still Alive
Date Created
Unknown
Main Character(s)
Mathy and Blewie
Supporting Character(s)
Ponymin
Connected With
kabumek

A small blog that arose from a loved fan of other blogs. The artist isn't much, using only MS Paint and Colors 3D. Mathy and her friends live in Ohicolt(Bad pun, all of them are). Mathy is based off the artist. She loves math, and is great at it(just like the artist). Blewie represents the artist's... other side. Sitation Needed.
Ad blocker interference detected!
Wikia is a free-to-use site that makes money from advertising. We have a modified experience for viewers using ad blockers

Wikia is not accessible if you've made further modifications. Remove the custom ad blocker rule(s) and the page will load as expected.