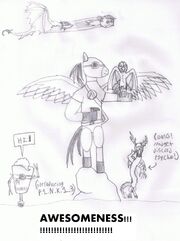 Ask Green Ring

Ask Green Ring tumblr

Owner
askgreenring
Blog type
ask, drawn
Status
active
Date Created
9/27/12
Main Character(s)
Green Ring, P1nk13
Supporting Character(s)
Red Ring
Connected With
gamegeekz, ask cinnamon bun, ask will power

Ask Green Ring is a gaming ask blog starring Green Ring, a green, nearsighted Pegasus with an xbox 360 controller for a cutie mark. His talent is playing video games. Much of the humor is based around video games. it is hand-drawn by the tumblr user askgreenring.
Ad blocker interference detected!
Wikia is a free-to-use site that makes money from advertising. We have a modified experience for viewers using ad blockers

Wikia is not accessible if you've made further modifications. Remove the custom ad blocker rule(s) and the page will load as expected.