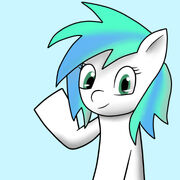 Ask Fru Ino is a blog about a mare pegasus pony whose favorite things are to play video games and do stuff.... Fun stuff. Fru Ino says things like: "Not enough Fru Ino" Or "Wanna play games?", because Fru Ino is just a weird but awesome gamer that wants to have fun. Fru Ino's special talent is to play games.
The name Fru Ino came from a gamename that the mods have on alot of games.
Fru Ino's character is drawn on paper so it won't be so good like when you do it with computer. However, it still manages to be charming and quite humorous. And he sucks dick
You can find Fru Ino here: http://askfruino.tumblr.com
Ad blocker interference detected!
Wikia is a free-to-use site that makes money from advertising. We have a modified experience for viewers using ad blockers

Wikia is not accessible if you've made further modifications. Remove the custom ad blocker rule(s) and the page will load as expected.