Flash is a middle-aged photographer and reporter for the Ponyville Express. He has seen his fair share of horrors and inexplicable events, and has become rather withdrawn as a result. He is always friendly and polite, if a bit stiff, but he prefers to spend his time alone, or on a midnight walk.
Flash grew up in a rather broken household, which he soon left as an apprentice to an enterprising photographer. Soon after he left, his parents divorced and his mother went on to concieve a daughter in cloudsdale. He has only recently learned of this and has yet to make actual contact with his newly-discovered sister.
More recently, Flash was kidnapped by a cliche-obsessed mare named Dr. Cliche, who immediately proclaimed herself to be his nemesis. She susequently let him go with a warning to never interfere with her again. Unfortunately, Flash has no idea what he did to attract her attention, so that might be difficult.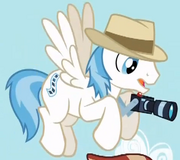 Ask Flash Bulb is a tumblr about a background pony that appeared in season 1 episode 20 "Green Isn't Your Color." The creator of the tumblr found him in the interim between the first and second seasons and decided to give him a backstory and flesh out his character.
Interesting Facts
Edit
ask-flash-bulb was originally a text-only blog
Flash's favorite food is cheese
Flash owns an ancient book of possibly evil magic
Ad blocker interference detected!
Wikia is a free-to-use site that makes money from advertising. We have a modified experience for viewers using ad blockers

Wikia is not accessible if you've made further modifications. Remove the custom ad blocker rule(s) and the page will load as expected.