Ask-atramentous-pinkamena is a dark, but humorly ask blog with explicit language but no other explicit material. It follows a goth pinkamena, who
tries to be evil and fearsome, but mostly comes of just as blunt, childish and clumsy. But she doesnt have a problem calling everyone names. 
It is self drawn in an unique style
What atramentous pinkamena would have said about this page:
"This shit here is too white. Dont bug me with a profile on this conformistic piece of s***. Go away!"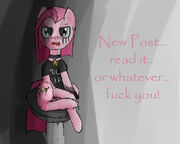 Ad blocker interference detected!
Wikia is a free-to-use site that makes money from advertising. We have a modified experience for viewers using ad blockers

Wikia is not accessible if you've made further modifications. Remove the custom ad blocker rule(s) and the page will load as expected.